by Rem
September 16, 2015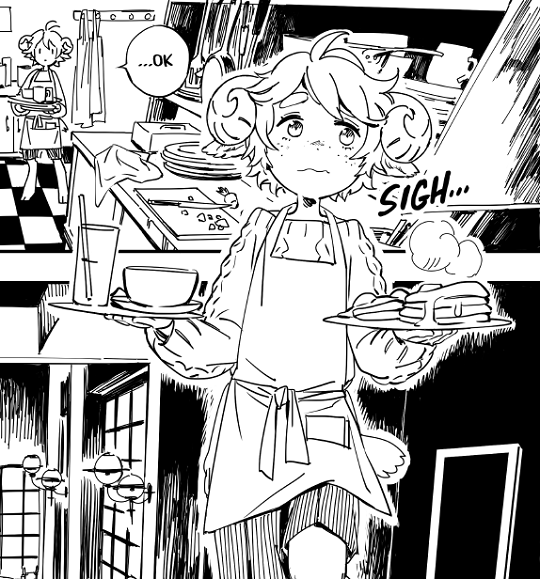 The inevitable happened! In celebration of the end of Part One of the talented Ru Xu's comic, Saint for Rent, I've drawn up a couple pages of her characters in the Devil's Candy universe~!
And while you're there, why don't you check out Ru's comic? It's spectacularly good, has a cast of super lovable characters, and is so verrrry well drawn! (also pancakes)
(PS: you might have spotted Saint for Rent's protag (Saint) in monster from on page 47 of chapter one, he'll probably keep popping up around campus at Hemlock Heart Academy, so keep an eye out! ~<3 )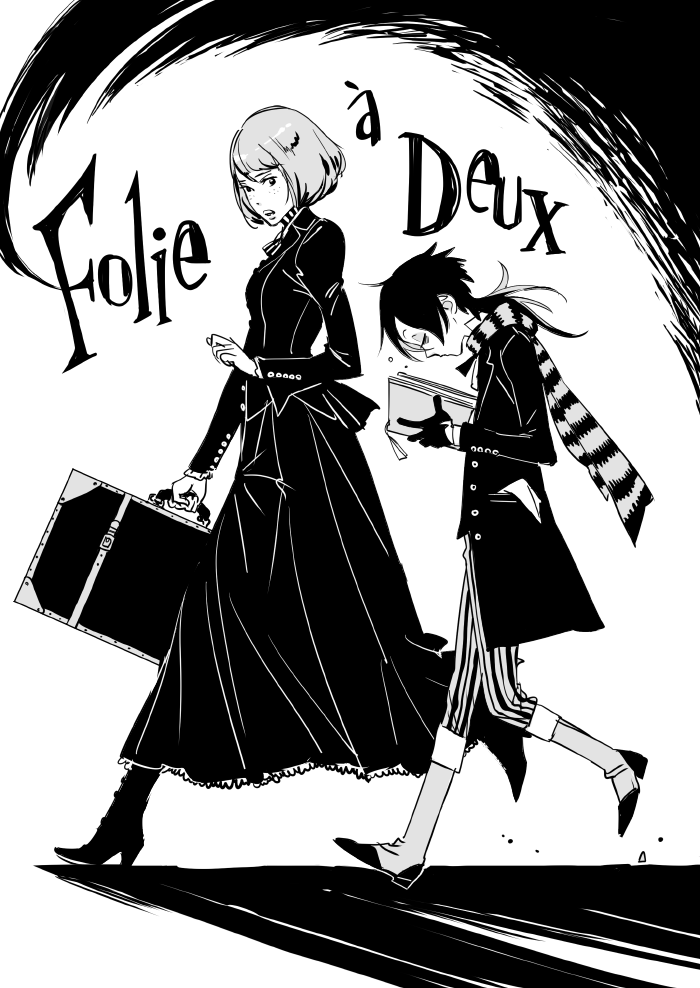 ✨💀I'm happy to announce that bikkuriland and I have a 60 page comic one-shot out called "Folie à Deux"! 💀✨
新しい読み切り『Folie a Deux(フォリ ア ドゥ)』です!ぜひ読んでください!楽しく読んでいただければ嬉しいです!!
This story's quite different than Devil's Candy.. It's a gothic mystery/horror story starring the mismatched duo of Nero Morley and Abigail Brighton. They fight extremely dangerous and mysterious beings in a dark, steam-punky Victorian London.
Folie à Deux is free to read in Japanese at the Shonen Jump+ website, and is out today to read in english in Viz's Shonen Jump Magazine! I hope you guys will check it out!!

Finally, the end to our first chapter! I hope you guys enjoyed it! Just wanted to let you know that ch.2 will be starting on April 13th and until then we have some some extra comics for you that I'll be posting this week.
Also! I started a Patreon page!! If you like Devil's Candy, please consider lending your support! There's lots of fun extra Devil's Candy stuff I'm making available to patrons and it helps me keep doing this full time! Click here for more info!
Hey, just wanted to say that Devil's Candy is now a proud affiliate of Hiveworks comics! This should mean some exciting new stuff for the comic,(like new readers! Hello, new readers! <3) so we're looking forward to what the new year holds!
Also, Kazu in a derpy fat bee outfit happened.
Thanks for everything, you guys! Since the launch we've received so much love and support, it's been really awesome!!! T u T)/ Hope you all have a great holiday, and eats lots of sweets! ♥
Just a heads up that Monday we posted 2 pages so make sure you catch them both!
Also, here are some more Devil's Candy inktober pics I did..wish I could do more but deadlines, deadlines~
So, for our launch, we're posting the prologue in its entirety. After this, we'll have one page each Monday and Friday. In the meantime, check out the character profiles to find out possibly meaningless things about our protagonists.
As for the chapter itself, fans of the original will notice some familiar things and plenty more new stuff. Please be patient for Skeleton Ninja Sensei.